Dragon-Tiger 168bet online casino game from 168BET, which Dragon-Tiger or a single card game is a game that is very popular among the many players with an easy playing method and having fun to win the games. It makes the Dragon-Tiger card to be popular in a very short period of time after the execution of this game. Originally, this Dragon-Tiger card game started out as a casino in Poipet, Cambodia. Later, when it became more popular and became widespread in many casinos of Asian countries.
The rules to play Dragon-Tiger 168BET
The rules for playing Dragon-Tiger cards are as follows: There are 52 cards (not including Joker card). By playing, there must be a selection between the left side is " Tiger card" and the right side is " Dragon card". If the dealer opens the card, in which side has a higher score, that side will be win. In additional, there are more details to play that can allow the player to bet outside the rules. From the picture 1, there will be the 3 main boxes on the right side are "Tiger" "TIE" "Dragon" By the staff will open the cards from the deck of 2 cards. On the left hand side is " Tiger card", on the right hand side is "Dragon card". We can bet on any side or bet on "Tie". In addition, the player can also place more bet than 1 side.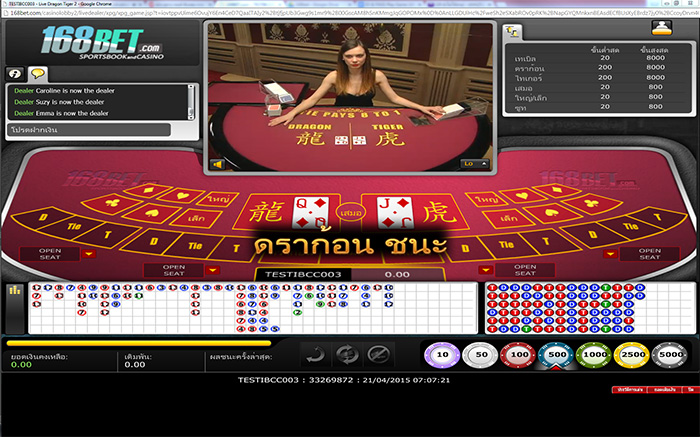 Counting score of Dragon Tiger cards
"A" cards are counted as 1 point
The cards with the suit 1, 2, 3, 4, 5, 6, 7, 8, 9, 10 will be counted according to the number of suit of the cards.
"J" cards are counted as 11 points
"Q" cards are counted as 12 points
"K" cards are counted as 13 points or the highest card