Baccarat Gclub is a game with a form of play that is easy and finish the game within seconds. Gclub Casino that live broadcast atmosphere of playing from a real casino in Poipet, Cambodia. Gclub live betting game has a beautiful screen, easy to use and can be used in Thai language. Baccarat online also can be played at the same time with the multiple tables. You can also adjust the image sharpness from the lowest to the HD level. If you are interested in Gclub Baccarat online, can register with us and contact to our staff for 24 hours.
How to play Baccarat Gclub
Start the online casino game of Gclub Casino with the original page that is clear, easy to understand. The fresh live atmosphere feels like stting in a casino. You can view for more details of the varoius parts of the online Baccarat game from below.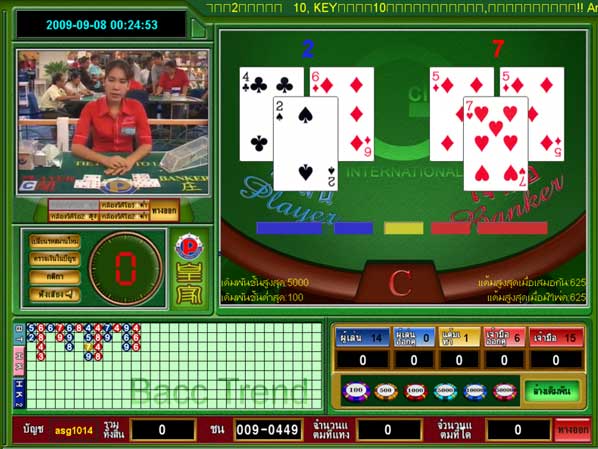 Player is betting on Baccarat card, the player is a winner
Banker is betting on Baccarat card, the banker is a winner
Tie Game is to predict the outcome of a Tie (Baccarat) between Player and Banker
Player Pair is a bet on the Baccarat player pair
Banker pair is a bet on the Baccarat banker pair
For the number shown on the side, shows statistical of Baccarat results issued. From the beginning of the game until playing, for example 25 players are the players who have won 25 times.
Baccarat Score counting
A card is equal to 1, J /Q / K /10 is equal to 0 and all other cards are counted according to the score of the cards
Natural cards : in Baccarat card, the natural cards when receiving 8 or 9 points from the first two cards
The sides must : " Stay" or not ask more cards because there is only one point that can defeat Natural 8 is Natural 9.
Player's Baccarat rules. When the first 2 cards of the player have the total points, the Player have to do as follows:
8 or 9 = Stay (Natural)
6 or 7 = Stay
0 1 2 3 4 or 5 = Draw
Banker's Baccarat rules. When the first 2 cards of the Banker have the total points, the Banker have to do as follows:
8 or 9 = Stay (Natural)
6 or 7 = Stay
0 1 2 3 4 or 5 = Draw